Hello everybody, this is Capt. Kip,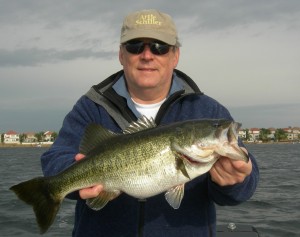 Fishing these last couple of days was out of this world. I fished with Dennis Anderson, yesterday we caught around 25 fish up to 6 lbs. Today fishing was best because Dennis caught a 9lb.1oz monster. We tried artificial and had no luck, live golden shiners were the ticket. Dennis had never caught a bass this big and was delighted. We caught lots of 4 lbs and 5 lb bass, it was a great two days of fishing. The front that came in today was the key on this big fish.
Come back to Florida soon. I'm looking forward to fishing again with you.
Til next time tight lines and good fishing….
From Staff Writer Capt. Kip Grunloh (fishing@bassonline.com)
BassOnline.com / 888-829-BASS